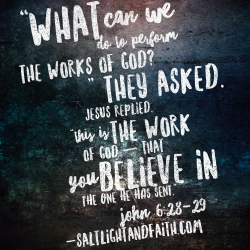 Some food for thought. It's not our sinful NATURE that condemns us, but at the core, our oppositional WILL. A sinful nature cannot be anything other than what it is. Just as a car cannot be anything other than car.
Yet a sinful nature leads to death.
James 1:15 Then after desire has conceived, it gives birth to sin; and when sin is fully grown, it gives birth to death.
Why? Because a sinful nature was never the WILL of God. He created Adam and Eve in HIS image. But they chose their OWN will (love of self) above that of God's will, and there are always consequences to living outside of the will of God. What God created in His image was corrupted, and mankind became more like a broken mirror, not a true reflection of God at all.
So how do we discard a sinful nature?
By repenting (turning away) from that nature, essentially taking dominion over that nature (that rules our flesh) and being transformed into 'something else'. A 'new creation', with a 'new nature', that is ruled by Spirit.
2 Corinthians 5:17 Therefore, if anyone is in Christ, he is a new creation. The old has passed away; behold, the new has come.
How are we transformed?
By receiving the gift of the Holy Spirit, a tiny bit of Christ in us. All we have to do is receive Him, His 'seed', and then it's up to us to water it, give it sunlight, and help it grow to maturity by seeking to know God more deeply.
When we have Christ in us, and His seed takes root, we are slowly, with time, transformed BACK into HIS likeness, and thus, we become extensions of Him. So by our NEW nature, HIS will…. WILL be done.
Acts 2:38 "Then Peter said unto them, Repent, and be baptized every one of you in the name of Jesus Christ for the remission of sins, and ye shall receive the gift of the Holy Ghost."
It's only in our REFUSAL to submit OUR will to GOD'S will, that leads to death and destruction.
Even then, even when we CHOOSE Christ, and invite Him in, making the decision to submit to His will, we still suffer trials and tribulations. This often happens when our old nature clashes with our new nature, and our old nature (self will) continues to try to oppose the will of the new nature (God's will). 
Our self-focused 'sin nature' will kick and scream to try to get us to embrace the lie, and continue to live and behave as the 'old us'… to continue to do our 'own' will, what we want. Yet trials and tribulations are nevertheless used by God to strengthen and grow that 'new creation' placed inside of us, to sharpen and refine us and bring us up in spiritual maturity.
When we make a CHOICE to SUBMIT our will to God's will, this choice leads to life everlasting, to the Christ in us.
What is God's will?
For us to BELIEVE on the One whom He has sent. He takes care of the rest.
John 6:40 For this is the will of My Father: that everyone who sees the Son and believes in Him may have eternal life, and I will raise him up on the last day."

John 1:12 But as many as received him, to them gave he power to become the sons of God, even to them that BELIEVE ON HIS NAME: 13 Which were born, not of blood, nor of the will of the flesh, nor of the will of man, BUT OF GOD. (GOD'S WILL.)
We don't even have to question it, or work at it… we need only believe on Christ, and ALL circumstances, good or bad, will be worked out for our profit and perfection, according to HIS will.
1 Peter 2:22 Now that you have purified your souls in obedience to the truth, leading to sincere brotherly love, love one another fervently from a pure heart. 23 You have been BORN AGAIN—not from perishable seed but imperishable—through the LIVING and enduring WORD OF GOD.
Jesus IS the Living Word of God, that new 'seed' implanted within us that when matured, takes on the characteristics of Christ, the thoughts and mind of Christ, the actions of Christ… so that we become literal 'doers' of the WORD (Christ IN us produces much fruit), and HIS will THROUGH US… WILL be done… because THAT is our new nature.
A car cannot be anything other than a car.
Our new nature, when in full dominion over us, can do nothing OTHER than the Will of God.
It's WHO WE ARE.
Romans 8:16 The Spirit Himself testifies with our spirit that we are children of God…
Sons of God, adopted into His family, with all the power and authority to defeat the enemy that Jesus possesses, given TO us by Christ IN us. Now how awesome is that?
Luke 10:19 See, I have given you authority to tread on snakes and scorpions, and over all the power of the enemy. Nothing will harm you.

Luke 22:41 And He withdrew from them about a stone's throw, and He knelt down and began to pray, 42 saying, "Father, if You are willing, remove this cup from Me; yet not My will, but Yours be done."

John 6:38 "For I have come down from heaven, not to do My own will, but the will of Him who sent Me."
Over to You
Are you submitting your life to God and His authority, coming into agreement with His will? It's the only way He can use you to carry out His purpose for your life.